Event report
Brexit: ancient history or current affair? Our final Beyond Brexit Forum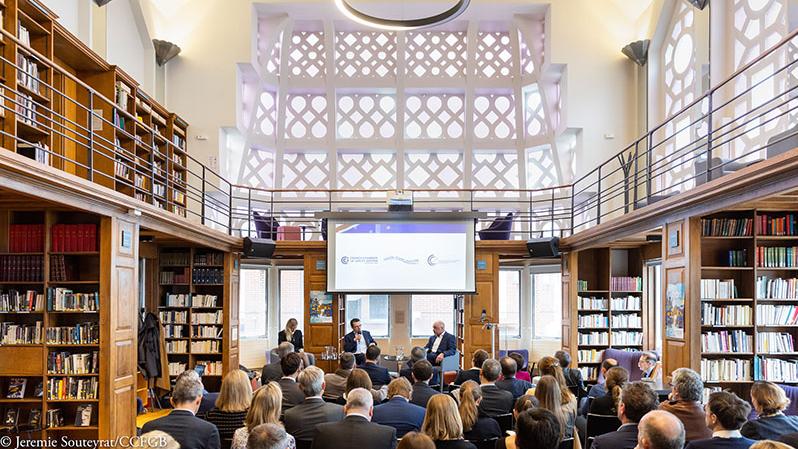 On 16th March, we were pleased to welcome our Patron and Corporate members to the final edition of our (Beyond) Brexit Forum.
This Beyond Brexit Forum was jointly hosted with the Conseillers du Commerce extérieur au Royaume-Uni and the Cercle d'outre-Manche. The event was the last of a five-year-long series of insightful discussions about the impact of Brexit on Franco-British business.
At the event, attendees had the chance to discover the results of our Brexit: one year later survey. This was followed by a discussion between Estelle Giraudeau, UK and Northern Europe Managing Director at Club Med, and Christophe Sire, UK General Manager at Savencia – moderated by Le Monde journalist Eric Albert.
Read our two-minute summary of the event's main takeaways below.
Recruitment and talent acquisition
Fourteen months after Brexit, recruitment seems to be causing the most concern for businesses. New regulations have narrowed the talent pool for recruiters and made it more difficult to expand workforces. 2021 was a particularly challenging year for the recruitment of staff in lower pay brackets and temporary workers who would normally come to the UK from EU member states.
The process for obtaining visas since Brexit is relatively straightforward once companies have taken the first step of signing up for a sponsor licence.
Moving goods
Changes to legislation since Brexit have forced businesses to familiarise themselves with concepts like the customs union and the single market. The new regulations governing tax and customs are complex but have been manageable thanks to the extensive preparation put in the years prior. However, the implementation of the full range of new regulations from July 1st is likely to represent additional challenges.
Future investment in the UK
Despite the ongoing challenges, companies trading between the UK and the EU have shown resilience over the two years since the UK's departure. On the whole, the UK remains an attractive place to invest. Companies have retained a pragmatic outlook despite the bleak initial assessments of the impact of Brexit.
After six years of uncertainty, 2022 marks an opportunity to reenergise Franco-British trade – and to think of Brexit less as a 'divorce' between the UK and the EU and more as the start of a new partnership.