Portraits • Members
Five questions with Sean Haley, CEO of Sodexo UK & Ireland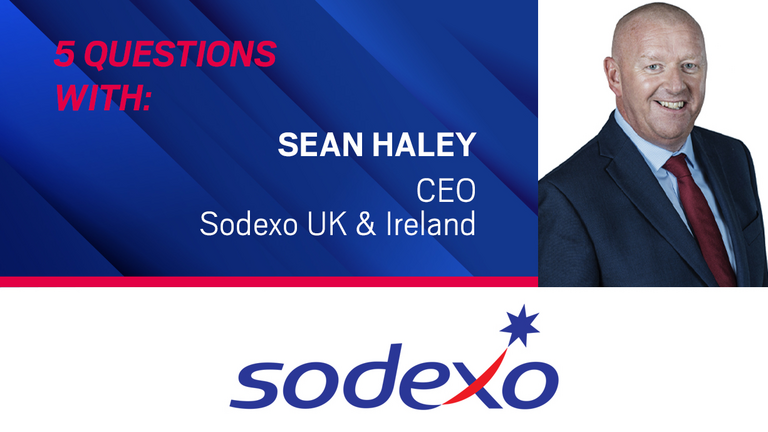 Meet Sean Haley, our recently welcomed Patron Member and the CEO of Sodexo UK & Ireland. In this exclusive interview, Sean delves into five key questions, offering a unique perspective shaped by his extensive 28-years journey in the industry. From the intricacies of public and private sector outsourcing to the factors steering Sodexo's success, Sean shares valuable insights on the business world, as we explore the initiatives driving Sodexo's competitive edge.
In 2011, you joined Sodexo as part of the acquisition of Atkins' asset management business. How did this experience prepare you for your current role as the CEO of Sodexo UK and Ireland?
At the time when Atkins' Asset Management Business was acquired by Sodexo in 2011, I was Managing Director and had been since 2005. After five years in the role, the Group CEO and I agreed we should sell the business because it was becoming increasingly non-core, and this led to the sale to Sodexo.
I joined Sodexo, along with 700 colleagues, and I only planned to stay to see the acquisition through, but I was, however, quickly won over by Sodexo's strong, purposeful culture at the heart of the business – and I have been with the company ever since. This experience laid some groundwork for how I operate today as CEO of Sodexo UK and Ireland.
Throughout the sale process, communication was essential to provide both the business and my colleagues with clarity and clear direction to ensure that we were taking them on the journey with us. This has informed how I operate today – providing clarity is key. Another real learning from that process was that – regardless of any change programme you are driving – you can never, ever get distracted from delivering to customers.
While these were all valuable learnings, nothing prepared me more for taking on the CEO role, than spending time in the business in various positions, developing a deep understanding of the clients, the people and how operations work on the ground.
Sodexo is dedicated to enhancing individual and organisational performance by improving quality of life through its facilities management and food services. Could you share a success story that highlights how your services achieved these objectives for a client?
I think a great success story which really brings this to life is the work we do with the British military. We are responsible for feeding more than a third of the British Army – a feat of which we are extremely proud – but our services extend beyond food. The lived experience of service personnel is an absolute priority for The Defence Infrastructure Organisation (DIO) and recognises that life in the armed forces goes beyond a standard working day.
At Worthy Down in Winchester, working closely with our military partners and the DIO, we designed 'Village' – a one-stop catering, retail and leisure facility. The result is a multi-functional hub that promotes wellbeing, builds community, fosters morale, and provides a lively social space, as well as vital retail and leisure facilities for military personnel living and working on base. This is just one of many examples of how we achieve these objectives for clients, but it is also important to note that we are just as focused on improving quality of life for our colleagues. We approach this from many angles.
Firstly, through social mobility. We believe that everyone should have the same opportunity to get on in life, no matter who they are or where they are from. Our commitment to apprenticeships is just one way for us to drive social mobility in the communities where we work and serve – more on that in a moment.
This year, we also launched an enhanced suite of benefits, to help provide time, flexibility and financial support for important life moments. This included equalising and enhancing maternity, adoption and paternity paid leave.
Your company offers a diverse range of services, including Facilities Management, Food Services, Concierge Services, and more. What, in your opinion, are the key factors contributing to the success of your services across these varied areas?
While we do offer what may appear to be a diverse range of services, we see them more holistically as serving with care the essential daily needs of millions of people. Through meeting these needs, we are able to improve the quality of life of those we serve, at the same time providing a vital contribution every day to the communities where we operate.
And how do we do that? Sodexo is, and has always been, a people-led business – without them, there is no business. Across the UK and Ireland, we have more than 30,000 colleagues working across 2,000 sites in a wide variety of roles and environments. Their commitment to, not just their day-to-day work, but also to living our values, makes them undeniably the key factor in our success.
Another factor driving our success is our client and consumer-centric approach across all industries – whatever their requirements. A great example of this is our Vital Spaces proposition which was launched in late 2020 to help clients dealing with hybrid workplace requirements. Vital Spaces goes beyond the traditional models of facilities management and food services to bring together a compelling blend of services through which we can support clients with a 360-degree, people-centred approach to their workplace and employee experience. While hybrid working practices are now the norm, Vital Spaces continues to support those seeking to address the evolving-workforce challenges that come with the new flexible work models.
Sustainability and corporate responsibility are at the forefront today. Can you tell us about some of Sodexo's initiatives in these areas and the impact they've had on your business?
Social impact is at the heart of our business and has been since Sodexo was founded over 50 years ago. It is core to our corporate strategy and influences decision-making at the highest level of the business.
We have been actively tracking our community impact since we first launched our Public Service Pledge in 2015. Two years ago, we reimagined this into a Social Impact Pledge, covering four strategic areas: our People, Planet, Places and Partners. The commitments we make in this pledge have helped us to focus our ambition, make our goals tangible and importantly take our colleagues with us on the journey.
Starting with sustainability – we are on a journey to Net Zero 2040 and were one of the first businesses to achieve validation on our targets from the Science Based Targets initiative (SBTi).
As you can imagine, there are so many levers involved along our journey to net zero but just one that I will mention here is food waste. As a business which serves in the region of one million meals a day in the UK and Ireland, our pledge to halve our food waste by 2025 – five years ahead of the UN target – is critical.
This year, our Stop Hunger Foundation raised over £580,000 which will go towards projects fighting food insecurity and food waste. The Foundation also passed an incredible milestone working with Fareshare, with financial support donations passing the £1.5m mark since 2005.
As a business which creates employment for more than 30,000 people in the UK and Ireland, our ability to have a positive impact on social mobility is always front of mind and we know that apprenticeships, as I mentioned previously, are crucial to this. At present we have around 900 apprentices working across the business, and we have to date committed £2 million of our apprenticeship levy to small businesses and not for profits to facilitate their own training programmes.
From your perspective, what are the primary challenges in the facilities management and food services industry?
I mentioned earlier that Sodexo is a people-business. As such, the competition for talent, which is perhaps one of the defining industry challenges of the decade, is critical for our success.
Net Zero, as I also mentioned previously, is a real challenge. We are on a journey to Net Zero 2040 and we are making progress decarbonising our business across all three scopes – in January 2023 we announced a 33% reduction in greenhouse gas emissions since our 2017 baseline. I believe that net zero will be the biggest vehicle for and driver of collaboration over the coming years. No individual stakeholder can deliver their commitment in isolation and, as we have all learned from recent world events, when you have no choice, things start to happen very quickly.
Founded in Marseille in 1966 by Pierre Bellon, Sodexo is the global leader in services that improve Quality of Life, an essential factor in individual and organizational performance. Operating in 56 countries, Sodexo serves 100 million consumers each day through its unique combination of On-site Food and Facilities Management Services, Benefits & Rewards Services and Personal & Home Services.