Members
IONA: autonomous drone delivery to boost local economies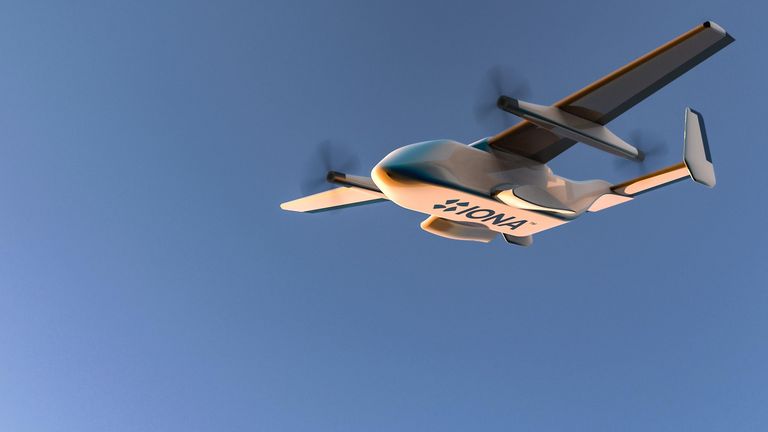 In 2022, our New Business Award went to IONA, a startup aiming to regenerate local economies through its innovative solution to a longstanding logistical problem
The frustrations of last-mile delivery
For millions of people living in rural areas, receiving deliveries by post is a costly and inefficient process. Some places are so remote that delivery is simply not available, while many locations have to be served by third-party couriers who charge extortionate fees.
In addition, according to a UK government report, only one in 20 people in these areas can access a collection point. Of these, a third are open for just five-and-a-half hours every day, making them practically impossible to access.
Transporting packages by van, along winding roads to scattered locations, means up to 85% of total delivery costs goes towards covering labour and fuel.
IONA is setting out to change this through an ambitious new technological programme: a fleet of autonomous drones. These drones will replace vans for the last legs of deliveries, transporting packages rapidly, cheaply, and with no carbon emissions.
Each drone will be able to carry 10kg of cargo and will be able to deliver packages either to a dedicated collection point or directly to customers' homes.
The birth of IONA
IONA was the brainchild of Etienne Louvet, a French entrepreneur with a background in cleantech consulting, and Dr Saïf-Deen Akanni, a British aerospace engineer who has 33 years of experience building aircraft and who won the $1M Genius NY Prize in 2019 for his work on drone technologies.
Having been city-based for many years, Louvet found himself back in his home village in Brittany at the start of the COVID-19 pandemic. Locked down in a rural area, he quickly realised how poorly equipped the community was to receive deliveries and access services. After being used to getting around by bicycle, he now found himself completely car-dependent.
Talking to local producers, he found that they were being left with little profit by having to sell their products to local supermarkets in bulk.
"If you don't have enough volume or efficient infrastructure for logistics, it is difficult for local businesses to survive," he explains.
"Logistics is at the heart of everything. Governments are trying to promote the 'local economy', but this is meaningless without tailoring solutions to suit the local conditions."
Armed with his knowledge of technology startups, Louvet set up IONA in October 2021.
"I was surprised that more companies weren't already doing this," he explains. "I noticed that most civilian business cases were focusing on delivering a cappuccino within five minutes – which is not only completely useless, but also a disaster in terms of energy efficiency."
Efficient, low-carbon logistics
Based on the company's own calculations, using drones for deliveries will save 50 million tonnes of carbon dioxide emissions per year just in the UK. They will also help providers to cut their delivery costs by 50% in rural areas.
Since they will no longer have to pay delivery surcharges, companies using IONA's drones will be able to expand their revenue into rural markets. At the same time, residents will reduce their reliance on cars to collect deliveries and help local businesses to thrive, developing local delivery offers.
The drones will operate alongside a dedicated network of delivery hubs which will also act as recharging stations, allowing drones to swap batteries autonomously.
IONA is well-placed to scale up its operations over the coming years: it owns, and can continue to develop, its proprietary technology. Test flights will begin in July this year, with the first fully autonomous franchise solution operational by 2024.
"We enable seamless and affordable last-mile delivery," says Louvet, "but at same time we can help SMEs and local companies to completely change the dynamics of the local economy."
IONA is a new kind of local logistics provider, using drones and local hubs to enable efficient and sustainable delivery to rural and remote areas.
IONA is currently expanding its operations in France and Europe and actively seeking investment to support its future development. For more information, you can contact the team here.