Event report
Luxury Club: Art, Popular Culture & Luxury: Past, Present & Future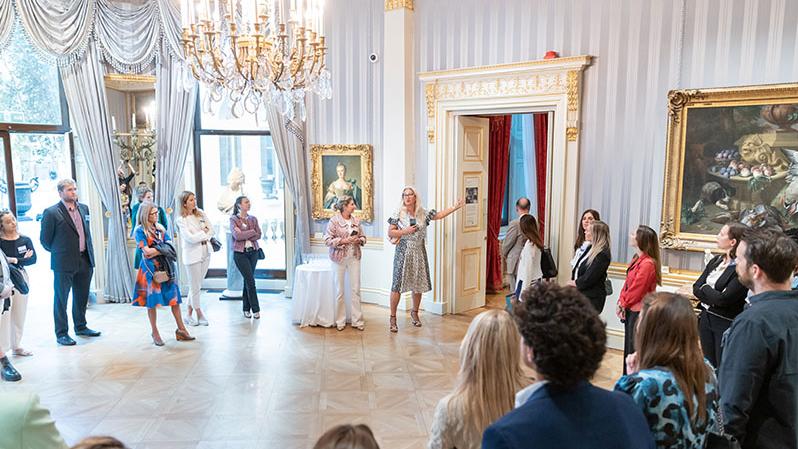 For this second session, our Luxury Club met at the Wallace Collection to learn about the interplay between art, popular culture and the luxury sector
Members were first treated to a private viewing of the Wallace Collection's exhibition 'Inspiring Walt Disney: The Animation of French Decorative Arts', which shines a light on how French Rococo art influenced classic Disney films.
Following this, they had the chance to learn more about connections between art and luxury in a presentation given by Sally-Anne Limb, Head of Insights at Spring Studios, and Philippe Roucoule, Vice President of Category and Retail Business Development at Warner Bros.
Read our summary of the talk below.
Art and popular culture as a source of inspiration
There is a rich tradition of luxury brands taking inspiration from trends in art and popular culture. The partnership between Salvador Dalí and Elsa Schiaparelli in 1937 marked the first in a series of unexpected collaborations that helped to drive significant shifts in consumer expectations.
Subsequent notable partnerships of this kind include those between Yves Saint Laurent and Mondrian, Calvin Klein and Andy Warhol, and Louis Vuitton with a rolodex of some of the most prominent artists of recent years.
Contemporary trends in luxury
Collaboration between artists and designers is not merely a question of using designs: it is about driving innovation, creating new revenue streams, and tapping into new audiences.
Today, desirability in luxury is driven by cultural credibility as much as it is by high-end products and experiences – and brands that are not building cultural currency risk losing their relevance to new generations of consumers.
Luxury brands' activities are becoming increasingly more collaborative, helping to democratise art just as Disney's films opened up the traditionally elitist art of the Rococo period to a wider audience.
New collaborations help to create products and experiences that are more inclusive and participatory. The successful brands are the ones that are leaning into this trend and encouraging consumers to be a part of the exchange between art and luxury.
The metaverse: an opportunity for luxury brands
In the wake of the COVID-19 pandemic, audiences are seeking to recapture a sense of optimism, just as the 18th-century cultural elite embraced the Rococo period as a relief from the Baroque. With this in mind, it is perhaps unsurprising to see how luxury brands have adopted and embraced cartoons in recent months.
This same desire for a more playful, surrealist atmosphere lends itself very well to the metaverse, which offers almost boundless opportunities for creativity and collaboration.
NFTs are changing perceptions about ownership, artistry and collaboration within the world of art. This trend borrows heavily from the world of cartoons and animation, but also taps into the more playful and humorous spirit which luxury brands are seeking to capitalise on.
The ingredients for a successful collaboration
A successful collaboration is built upon some kind of shared DNA between brands. It is critical that brands and designers can find a level of fundamental alignment rather than trying to force a collaboration for its own sake.
A successful collaboration also requires a good deal of planning – sometimes several years' worth. The more effort put in earlier on, the more chance there is that a partner will agree to place a product in a film, for example. Franchises with a large following offer great potential for increasing brands' reach, but creators still need to be given free rein over their work.
Collaborations in the future
Ultimately, working out how to monetise the resale of goods is the biggest challenge. Many collaborations are starting to feel tired, and the digital world offers a solution to this.
The metaverse does tick quite a few boxes in terms of the latest trends towards gamification, personalisation and immersive experiences. Nonetheless, whilst there will always be a space for digital luxury art, the lack of a physical component still makes it less meaningful to consumers.
Many thanks to the Wallace Collection for hosting the event, and to our generous sponsors Pol Roger and Ladurée for providing the refreshments.