Event report
Luxury Club breakfast: Exploring the Metaverse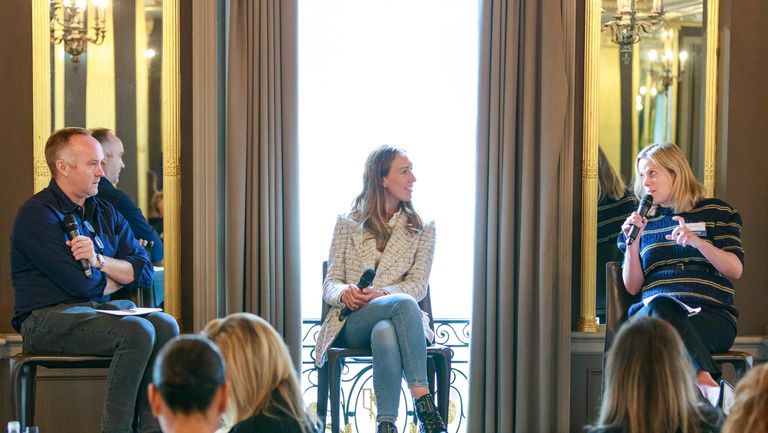 Talk of the 'metaverse' – an all-encompassing, simulated environment allowing users to interact with each other virtually – has recently accelerated.
The metaverse offers boundless creative opportunities for luxury brands as well as enabling them connect with customers on an even deeper level.
On 5th October, members of our Luxury Club had the chance to find out more about the metaverse and its implications for luxury in a presentation by Anant Sharma, CEO of Matter of Form Group.
This was followed by a panel discussion with industry experts Charlotte Shaw, Chief Marketing Officer at BlockBar and Ian Edwards, Connection Planning Director at Facebook, and moderated by Sarah Shannon.
Missed the event? Read our summary of the main takeaways below.
What is the 'metaverse' and why the hype?
Apple CEO Tim Cook recently commented that the metaverse remained poorly understood. It is often referred to in obscure terms like 'the future of the Internet', as a glorified video game experience, or simply a new term for cyberspace – and headlines about 'metaverse spending' often simply refer to online sales.
Virtual reality vs augmented reality
Misunderstandings about the metaverse often stem from confusion between the terms 'virtual reality' and 'augmented reality'. One crucial factor sets these two apart, however. Virtual reality immerses the user in a world which is just that: virtual and unconnected with the real world. Augmented reality, on the other hand provides a contextual overlay of information which gives new, richer meaning to a real-world setting. It is this technology that the metaverse is built upon.
The evolution of the Internet: Web 3.0
At the heart of the metaverse's potential for brands is the notion of 'decentralisation': the distribution of power away from central authority and towards users.
The 'Web 1.0' phase of the Internet generally worked as a one-way flow of information to the consumer. 'Web 2.0' represented a more interactive, two-way setup allowing users to produce and share their own content.
What the next 'Web 3.0' phase is supposed to offer is an immersive 3D environment coupled with a massive decentralisation of the Internet – the ideal conditions for a virtual, peer-to-peer network.
Decentralisation does not necessarily mean democratisation, however. In the world of NFTs, for example, 80% of the market is owned by just 9% of accounts.
Implications for luxury brands
Decentralisation: digital creativity as the new craftsmanship
The decentralised spirit of the metaverse gives luxury brands boundless opportunities for creativity – which some may even argue represents a new stage of luxury craftmanship. Without conventional constraints, designers can develop products based on the most fantastical interpretations of their brand DNA.
NFTs and shifts in perceived value
Despite leading to some questionable practices, the recent NFT 'gold rush' has made one thing clear: perceived value is shifting away from the intrinsic value of physical objects and towards their virtual equivalents. Digital versions of handbags have been known to fetch $1,000 more than their real-life equivalents, for example, even if they serve less practical purpose.
Dynamic NFTs, which can change their appearance thanks to variable meta-data, offer opportunities to tap into the cultural zeitgeist. To make the most of these, brands need to make sure they are in touch with their environment: how well do they listen and respond to the things that matter?
Digital twins and the metaverse
Digital twins – virtual recreations of physical products – have now been developed on an even larger scale than before, even extending to maps of an entire city.
This technology has so far been largely infrastructure-focused, but it offers the potential to create virtual spaces for user interaction. We can expect digital twins to extend to shopping malls, with brands building metaverse experiences for customers allowing them to virtually see and try out products.
The metaverse, luxury and authenticity
The perceived shift in value from physical to digital offers a wealth of opportunities for luxury brands – but they must make sure to develop their metaverse strategies in a tasteful, meaningful way.
Gaming and the metaverse: different strategies
If current trends continue, gaming looks certain to become the world's largest media platform in the coming years, and this will have a huge impact on how companies promote themselves. Gamers are active participants striving towards an eventual goal – so putting a brand at the centre of this value exchange gives companies the chance to create more meaningful relationships with consumers.
Brands should be aware, however, that doing this is not a metaverse strategy: it is a paid promotion. Gaming communities are neither decentralised nor metaverses, so brands need to differentiate their gaming and metaverse strategies.
Smart contracts
'Smart contracts' are increasingly being used to complete transactions within luxury industries like travel and art. These are essentially digital handshakes: programmes stored on a blockchain which allow an agreement to be executed once certain conditions have been met.
As well offering rapid, secure transfer of ownership, a smart contract is a way of authenticating a product's backstory. It provides information about its provenance, raw materials, repair and warranty information, and its overall lifecycle – details which are essential to luxury consumers.
LVMH and Richemont recently collaborated on the Aura Blockchain, which aims to clamp down on counterfeit products by providing NFTs as digital proof of purchase.
Tapping into collecting mentalities
Ultimately, there are only so many physical products that customers can collect. The metaverse offers vastly increased scope for this. Digital twins of products can help brands tap into a collecting mentality, helping users to build up stories – a significant form of social capital.
Overall, if companies want to create a homogenous user experience, brand and services need to complement each other. Luxury brands have always been about timeless trends and authentic backstories, and customers will see through any thinly-veiled attempts at self-promotion.