Portraits • Members
Raymond Blanc: building bridges between France and the UK
Over the decades Raymond Blanc, chef patron at Le Manoir aux Quat'Saisons, has become one of the best-known French figures living and working in the UK.
A Frenchman enriched by British culture
As a Frenchman living in the UK for over 40 years, Raymond Blanc has long been aware of how French and British mentalities differ – but also how they can complement one another.
"We French take ourselves and our opinions very seriously, and we react very quickly to what others say. The British have that lovely quality of knowing how to listen to others, and they feel they can laugh at themselves.
"It has taken me over 40 years to realise, but there are so many lovely British qualities that have enriched me and, hopefully, made me a better Frenchman!"
Despite the fallout from Britain's departure from the EU, Blanc is sure that the strength of the Franco-British relationship will endure.
"Brexit has of course had an impact on business relationships between Britain and France – but we are too close geographically to not have a good relationship," he says.
"On matters of business, security, health – we share the same interests. The niggling little problems that we occasionally see crop up are just escarmouches. To continue to move forward together, we need to look back on our past successes."
Le Manoir aux Quat'Saisons: an intersection of cultures
Blanc has always been keen to build bridges between the British and French cultures.
"I hate the idea of nationalism," he says. "It completely narrows our horizons. I love to be open to new ideas. Through my travels, I have gained a better knowledge of food, art, and culture, but also a better understanding of others: more empathy."
This openness to new cultures and ideas has always driven new developments at Le Manoir: adapting French ingredients and traditions to a British context.
"We grow over 150 varieties of vegetables at Le Manoir, of which at least 60% are French," says Blanc. "But if I can find better produce in England, I will use it. We can find some excellent produce in Great Britain today, especially beef, lamb and seafood."
Blanc has also given Britons invaluable training in the French culinary tradition, with his head chef pâtissier helping a British team to get to the finals of the World Pastry Cup in 2011 – something that would have been unheard of in the past.
"It is always so enriching to get French and British experts working together," he says.
Franco-British collaboration is also central to Blanc's plans for the future of Le Manoir – a new vineyard, for example, is being developed with the help of both British and French agronomists.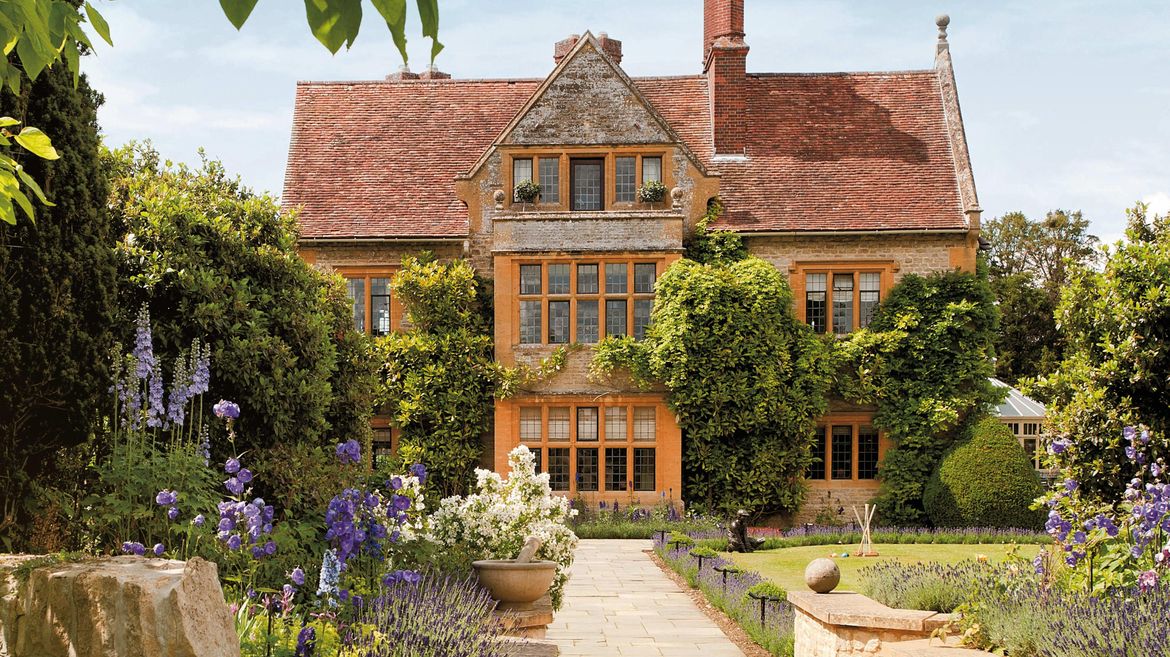 Building a sustainable business: French principles in practice
Blanc's longstanding interest in sustainability stems from his French upbringing and the importance attached to terroir and local ingredients.
"Sustainability is number one for me," Blanc explains. "My values come from my home, my culture, and my little village, which gave me such a powerful, deep knowledge of food. My mother taught me about the importance of local values, so I have always sought to buy local produce – generally within a 90-mile radius.
"Our twelve gardens are all organically grown, with no chemicals whatsoever – and that all comes from France, from my values. My gardens are the canvas on which I base my gastronomy."
2022 will mark ten years since Blanc became president of the Sustainable Restaurant Association – but his interest in building a sustainable company extends far beyond food itself.
"The luxury sector was always one of the worst as far as sustainability was concerned, with lots of empty talk," Blanc explains. "But the modern consumer is more knowledgeable, aware and responsible. People want authenticity, they want the truth – and that is what we aim to offer them at Le Manoir."
This vision is reflected in the Jardin Blanc: a dining experience at the RHS Chelsea Flower Show taking in not just food, but sculpture, art and music – and aiming to share the richness of French culture with a British audience.
"It's not about showing off," Blanc jokes, "but about how we can work together. It's about promoting the entente cordiale through discovery, art and culture.
"It's not just business – there are so many other things which are just as important."
Created by Raymond Blanc OBE, Belmond Le Manoir aux Quat'Saisons offers one of Britain's finest gastronomic experiences. The 32 bedroom hotel has held two Michelin stars since opening in 1984. Surrounded by lawns, flower borders and orchards, the luxury hotel enjoys an idyllic, typically English setting where organic produce is grown onsite for the daily menu.