The Chamber
The importance of a connected team: How the French Chamber navigated the Covid crisis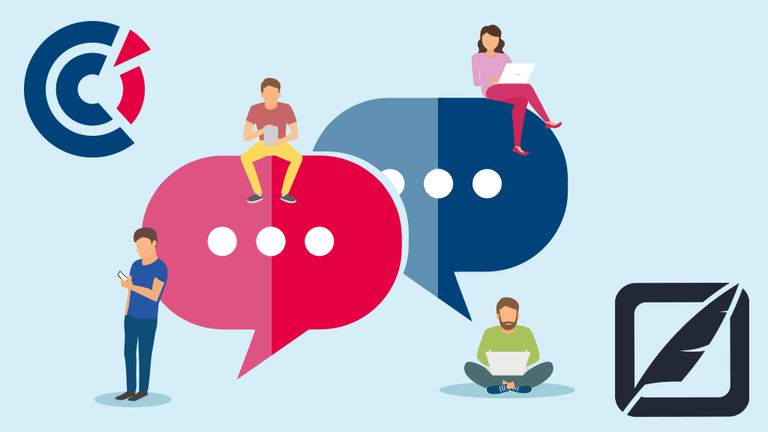 In early 2020, the French Chamber jumped at the chance to try out a new secure messaging platform created by Qwil Messenger, one of our members. Little did we know that a couple of months later, the world of work would change overnight when lockdown plunged us into remote working, and that Qwil Messenger would become the tool that held our team together.
What is Qwil Messenger? In its own words, Qwil Messenger "solves the challenge of making conversations safe and compliant when it matters most: between your staff and their prospects, clients and partners. The cloud-based platform enables participants in any location to engage in branded, professional conversations with their companies whilst meeting the most stringent security and regulatory requirements."
We've exchanged almost 100,000 Qwil messages since the start of remote working, averaging 400-600 messages per day (compared to around 200-300 internal emails per day). For us, a messaging system that is safe, secure and compliant is essential, with many messaging apps including WhatsApp expressly prohibiting business use in their terms and conditions. Like many organisations, we had very little time to prepare when the pandemic sent us instantly into remote working, and needed to implement new systems and processes fast to continue to deliver for our members. Whilst Zoom replaced formal, structured meetings, where Qwil Messenger came into its own was for the quick back-and-forth exchanges; the kinds of conversations you'd wander over to a colleague's desk to have, and for the check-ins and chat that keep everyone's spirits up. Without a quick, easy messaging platform, on our mobiles and desktops, we would have taken far longer to get established in our new ways of working. But more importantly, we would have missed out on the many social interactions that email is just a bit too cumbersome for. Our team was able to stay engaged, motivated, and keep looking out for one another.
We're looking forward to testing the new features that are coming soon, including video and screen sharing.
Thank you to Qwil Messenger, for offering us this software and for keeping our team close, connected and calm during this pandemic!
Free trial and more information available at www.qwilmessenger.com
Qwil Messenger is a flexible, multi-tenant, secure and compliant chat. Its platform has been specifically built around the regulatory need to host data in different physical locations.