Sectors & markets
GFG Alliance welcomes Dunkerque smelter as cornerstone for supply chain expansion in France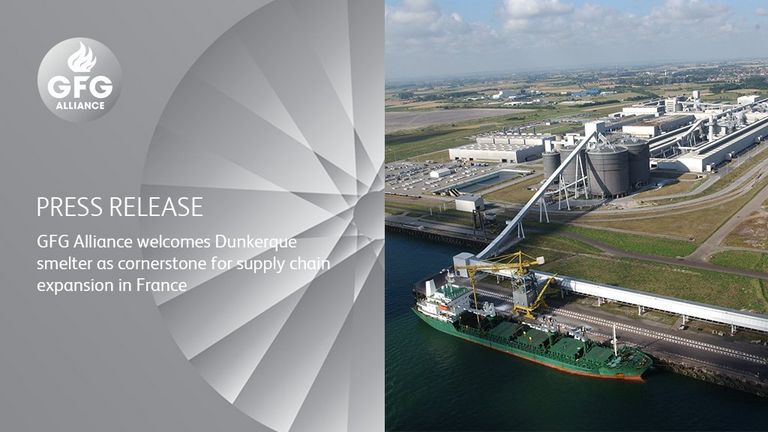 Sanjeev Gupta's global GFG Alliance formally inaugurated Liberty Aluminium Dunkerque on January 24th, as part of its global network of businesses and declared its intention to expand strongly into France's industrial supply chain.
In the presence of the French Minister of Action and Public Accounts, Gérald Darmanin, Mr Gupta joined staff and up to 350 guests in Dunkerque to formally welcome Europe's largest smelter, bought from Rio Tinto for around US$500m in December last year, into the GFG fold.
GFG aims to make the 570-worker plant the hub of an extensive manufacturing supply chain providing materials and components for French industry, particularly the automotive sector. The site currently produces 285,000 tonnes of primary aluminium a year.
In confirming this commitment, the British-owned business became one of the first to respond to President Emmanuel Macron's call during the high-profile 'Choose France Summit' this week for more inward investment into the country.
Mr Gupta, who was among over 100 international company chiefs at the President's summit in Versailles, also announced today that Liberty Wheels France, already a major customer of the Dunkerque smelter, has won it first major contract since the London-headquartered Alliance took over the plant in May last year.
From June, Liberty Wheels France will supply the specialist French micro-car manufacturer Ligier with up to around 40% of its annual requirement for alloy wheels. It is the first contract won since the Alliance acquired the facility, which is the only aluminium wheel manufacturer in France. The group has since implemented a turnaround plan to improve the plant's efficiency and productivity.
The Minister of Action and Public Accounts, Gérald Darmanin said:
"I wanted to be here today for the inauguration of Liberty Aluminum. This is an important moment for the industrial renewal of Dunkirk and the Hauts-de-France region. The acquisition of this smelter by GFG Alliance is also a strong symbol of the French economic attractiveness instilled by the Government. I salute the commitment of Mr. Sanjeev Gupta and his teams in this long-term industrial project. It testifies to their confidence in the exceptional know-how of the men and women who work in this foundry of Loon Plage. "
Speaking of the week's events, Sanjeev Gupta said:
"In a week where I joined other business leaders from around the world in Paris to celebrate France's attractiveness to foreign investors, I am delighted to be able show two positive examples of why GFG invested here.
"Firstly I am proud to welcome Liberty Aluminium Dunkerque to the GFG Alliance. Our aim is to make this site and the highly skilled women and men who work there, the cornerstone of our integrated industrial business in France. We will work with local management and staff to develop new products which create even more added-value to the aluminium produced there, both sustaining and creating high-value jobs.
"We welcome our new colleagues in the knowledge and with pride that they will continue to supply our wheel manufacturing business who are themselves turning their own fortunes around. Together Liberty Aluminium Dunkerque and Liberty Wheels France symbolise our integrated supply chain and business model in action. What we now have is a further French car manufacturer being supplied with wheels 'made in France' made out of aluminium from our smelter also 'made in France'. This is the best reminder, if we ever needed one, of why we chose to invest in France".
Managing Director of Liberty Aluminium Dunkerque, Guillaume de Goÿs, said:
"Aluminium Dunkerque is very pleased to see the Liberty flag flying at our site. We are eager to play our role within the French supply chain, to support our customers and partners and through doing so, to become known as a Centre of Excellence for Aluminium. We have an ambitious programme to maximise the value of the aluminium we currently produce and to become a preferred supplier to the automotive and other growing industries in France. We're looking forward to making that journey shoulder to shoulder with our Alliance partners and colleagues."
Speaking of the Ligier contract win, COO of Liberty Engineering Mainland Europe Philippe Baudon said:
"Winning the contract to supply Ligier is a significant step for our Chateauroux site and for GFG in France. Since taking over the site last year, management and staff have all worked tirelessly to turn the site around – to implement the operational and cultural changes needed to make us more competitive and attract new customers. I am delighted that this hard work is starting to pay off – we know that we faced stiff competition from both Asia and eastern Europe for this deal and we know that our adaptability, technical expertise, competitiveness and proximity to Ligier's own operations were all factors in this success. Work is already underway to start delivering Ligier's first batch of French-made wheels in June as part of what I hope will be a close and ongoing partnership".
www.libertyhousegroup.com
www.gfgalliance.com